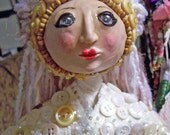 If you are looking for a completely unique gift, perhaps for a wedding or for an artist, a one of a kind commissioned art doll would be a beautiful and different gift. Always a talking point, perhaps a spiritual focus or inspiring archetype, I will consult with you on the character of the doll you wish made. You can give a figurative sculpture.
Perhaps she can be made from a loved one's clothing or other meaningful fabric.
Click Here to Visit My Etsy Shop!